Counseling and Psychotherapy
Individual therapy
Do you feel depressed, sad or numb too much of the time?
Do you often worry or feel anxious?
Do you feel unhappy, uninterested in things you used to enjoy?
Are you on the verge of tears or do you cry a lot?
Do you feel nervous all the time or find it impossible to relax?
Do you have frequent nightmares?
Do you awaken feeling disoriented and frightened?
Does your life feel pointless?
Have you suffered a loss or the death of a loved one?
Do you have difficulty sleeping or sleep too much?
Do you have stress-related health problems?
Do you often feel angry or frustrated?
Do you feel like you can't trust anyone?
Does your life feel like it's falling apart?

I will help you create a space to look at the inner and outer workings of your life. Your individual therapy is a place to explore and expand your view of yourself so that you can become more of who you truly are. It is a place to heal the injuries and distortions that come from experiences of child abuse, family violence, trauma and/or neglect. It is a place to grieve and process losses or deaths. I will help you sort out the confusion that often accompanies life transitions to discover how to move forward in your life or help a new direction unfold.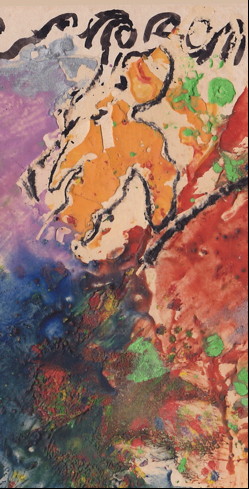 There are psychological patterns that form around unmet childhood needs and the attempts to meet those needs in early life. These dysfunctional patterns can persist into adulthood and are often at the root of present day dissatisfaction and suffering. The bond between a child and it's adult caregiver (usually mother and/or father) is called attachment. Ruptures or injuries of attachment in childhood effect your adult concepts of what you expect from others and how you see and experience yourself.
I will help you to recognize and examine these conscious and unconscious patterns in your life, experience your feelings, and learn new ways to communicate and meet your needs. I will assist you with setting and reaching realistic goals.
The therapeutic process is a place in which you can discover, define and feel empowered to meet your own needs. I see it as a place for you to incorporate into daily activities, a greater sense of meaning in your own life through a better understanding of yourself and others.
The methods and techniques of therapy vary depending upon your circumstances and needs. In general, the process begins with a discussion of your situation, concerns, issues, and how you envision therapy being helpful with those matters. Usually, it is relevant for me to obtain information about your family history. We discuss the issues you identify and examine elements that make them problematic.
Together we consider solutions that are within more immediate reach, as well as deeper emotional processes that might be at play. As a therapeutic relationship forms, we may continue to look at how your present day concerns are related to family of origin patterns. In a trusting environment, you can explore feelings, and dysfunctional family dynamics and distortions in your perceptions about your self, relationships, and life.
Depending upon your needs, temperament and wishes, we may utilize any of a variety of techniques in our work, in addition to discussion. These techniques facilitate and deepen your experience and expression of core issues and emotion. They range from EMDR (see below), visualization, artwork, movement and psychodrama techniques, journal writing exercises, empty chair dialogues, work with characterization of different inner parts, dreamwork, and the use of symbols and archetypes as they illuminate the inner journey of self awareness and healing.
I try to help my clients discover ways they can continue their work at home in between sessions if they desire. I can help you incorporate practices such as exercise, mindfulness meditation, visualization, Nonviolent Communication (NVC), journaling or creativity into your healing process at home.
My therapeutic orientation derives from a variety of theoretical sources. I draw from Jungian, family of origin, feminist, humanistic, developmental, process-oriented, gestalt, object relations, depth psychology, archetypal, transpersonal and psychodynamic approaches. I work with issues such as attachment injury, depression, anxiety, post-traumatic stress, dissociation, developmental and life transitions, loss and grief, co-dependency, relationship dynamics and communication, family of origin, self-esteem, archetypal and symbolic work, transpersonal issues, and creativity.
EMDR: Treatment with EMDR (Eye Movement Desensitization and Reprocessing) is based upon the hypothesis that the traumatic incident upsets the biochemical balance of the information processing system. The imbalance prevents the information processing from proceeding to an adaptive resolution, and the perceptions of the incident are "locked" into the nervous system. It is possible that repetitive eye movements are the body's automatic information catalyzing process (found in REM sleep), which serves to restore the balance, and allows the traumatic "overload" to be resolved. Many clients have found EMDR helpful in changing other kinds of entrenched dysfunctional patterns besides trauma. If you would like, I can suggest other ways to learn about EMDR and we can discuss if you might benefit from treatment with this method.
The EMDR Institute, founded by Francine Shapiro, the originator of EMDR, describes how it works:
"When a traumatic or very negative event occurs, information processing may be incomplete, perhaps because strong negative feelings or dissociation interfere with information processing. This prevents the forging of connections with more adaptive information that is held in other memory networks.... The memory is then dysfunctionally stored without appropriate associative connections and with many elements still unprocessed. When the individual thinks about the trauma, or when the memory is triggered by similar situations, the person may feel like she is reliving it, or may experience strong emotions and physical sensations. A prime example is the intrusive thoughts, emotional disturbance, and negative self-referencing beliefs of post traumatic stress disorder (PTSD).
It is not only major traumatic events, or "large-T Traumas" that can cause psychological disturbance. Sometimes a relatively minor event from childhood, such as being teased by one's peers or disparaged by one's parent, may not be adequately processed. Such "small-t traumas" can result in personality problems and become the basis of current dysfunctional reactions.
...EMDR can assist to successfully alleviate clinical complaints by processing the components of the contributing distressing memories. These can be memories of either small-t or large-T traumas. Information processing is thought to occur when the targeted memory is linked with other more adaptive information. Learning then takes place, and the experience is stored with appropriate emotions, able to appropriately guide the person in the future."